Page House and Gallery
Built [Berkeley, California]
Photographs: Naho Kubota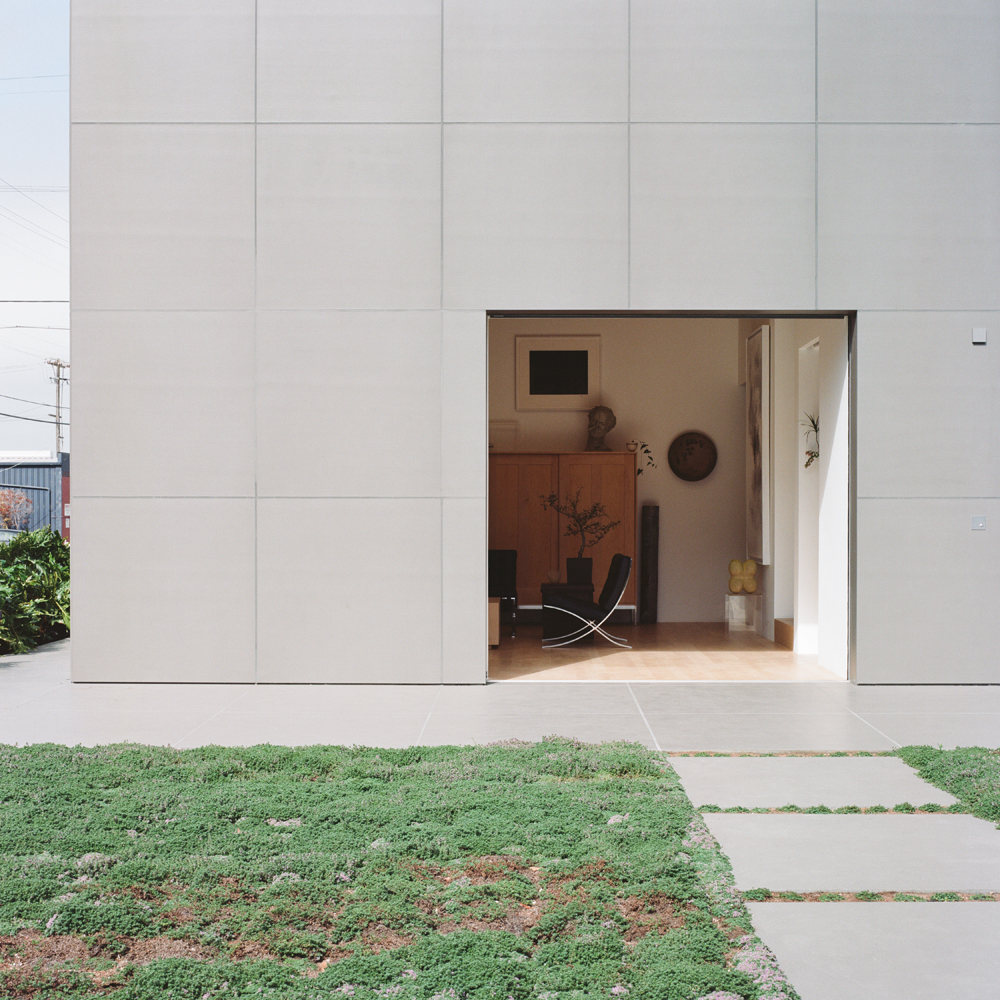 Accommodating an extensive and rotating collection of contemporary ceramic art, the house/gallery is in a mixed-used, light-industrial neighborhood. The form is a twenty-eight-foot cube, determined in part by the choice of a four-foot square porcelain panel for the building's facade and surrounding patio. The monochrome exterior is also related to the tile, to which metals and window shades are color-matched. Most walls house pockets for doors and windows--a doubling of the house that also conceals infrastructural elements. Organizationally, the division of the interior is based on a recursive diagram, with walls branching off a switchback stair.
Laurent House
In Progress [Santa Cruz, California]


This house occupies the rear portion of an exceptionally long, anomalous site set within the urban fabric of Santa Cruz. An existing house at the front of the property will be converted to an Accessory Dwelling Unit, allowing for a new single family house to be constructed on the site. The house is a 1,600 square-foot, low-lying structure that is nestled into the existing landscape. The house, organized around an equal division of living and sleeping quarters, bends at its midpoint to preserve existing mature trees. That midpoint occurs at the thinnest portion of the plan, where the roof rises to a peak and unifies two halves of the project.
On Off-squares

Drawing Research



This animated drawing reconstructs several scenarios of "off-square" sites from Sebastiano Serlio's

On Situations

. Serlio approaches the problem of site irregularities in practical terms. Each scenario lays out problems an architect might encounter in everyday practice and offers strategies for their resolution: courtyards, stairs, the expressive potential of 'poche': these and other elements mediate the situated symmetries of the examples.

Published in

PLAT 8.0: Simplicity
Wallace Art Shed

Unbuilt [Oakland, California]


This painting studio appropriates an existing structure that falls under stringent codes for its transformation. Zoning setbacks allow for new fenestration to occur only in one corner of the building, but the program called for the splitting of the interior space into two rooms and for them to both be lit naturally. Two new openings to the exterior, of the same proportions but of different sizes to the existing openings, are added in the permitted zone. The problem of natural light is resolved with the use of a device akin to an embrasure, or a skylight that passes through the conceptually solid block of the shed, from the roof, through one room and to the other.
K-12 Sports Complex
In Progress [Nashik, India]