Entrance Pavilion
Mangaluru, India


This pavilion, commissioned by the oldest extant terra cotta tile manufacturer in India, will inlcude a gatehouse and rainwater cistern. It is inspired by the drying racks in the existing factory, built in the 1860s, which are reinterpreted here as a porous roof structure. Tiles are mounted in an alternating fashion in multiple layers, evoking the regional application of the tile and the sublime quality of the factory storage spaces. The sloped steel substructure angles the tiles to collect and direct rainwater to the pavilion floor, where it is stored in an underground cistern. In storm surges such as the monsoon, the pavilion will act as a flood-mitigating strategy, gradually releasing collected water in between major rain events.
Page House and Gallery
Berkeley, California
Photographs: Naho Kubota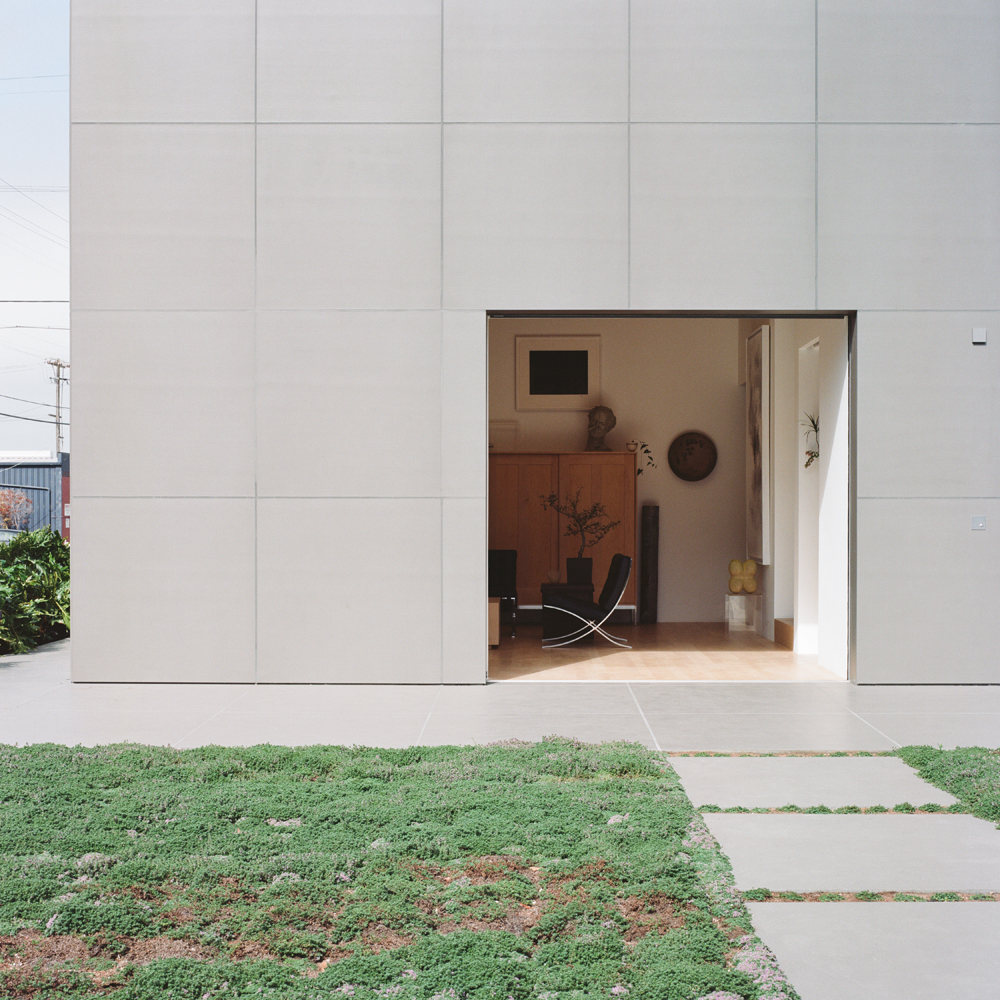 Accommodating an extensive and rotating collection of contemporary ceramic art, the house/gallery is in a mixed-used, light-industrial neighborhood. The form is a twenty-eight-foot cube, determined in part by the choice of a four-foot square porcelain panel for the building's facade and surrounding patio. The monochrome exterior is also related to the tile, to which metals and window shades are color-matched. Most walls house pockets for doors and windows--a doubling of the house that also conceals infrastructural elements. Organizationally, the division of the interior is based on a recursive diagram, with walls branching off a switchback stair.
Laurent House
Santa Cruz, California


This house occupies the rear portion of an exceptionally long, anomalous site set within the urban fabric of Santa Cruz. An existing house at the front of the property will be converted to an Accessory Dwelling Unit, allowing for a new single family house to be constructed on the site. The house is a 1,600 square-foot, low-lying structure that is nestled into the existing landscape. The house, organized around an equal division of living and sleeping quarters, bends at its midpoint to preserve existing mature trees. That midpoint occurs at the thinnest portion of the plan, where the roof rises to a peak and unifies two halves of the project.
K-12 Sports Complex
Nashik, India



This animated drawing reconstructs several scenarios of "off-square" sites from Sebastiano Serlio's On Situations. Serlio approaches the problem of site irregularities in practical terms. Each scenario lays out problems an architect might encounter in everyday practice and offers strategies for their resolution: courtyards, stairs, the expressive potential of 'poche': these and other elements mediate private property and public good.